Florida, Naples, TRAVEL
Pink Paradise: Making Strides Against Breast Cancer Southwest Florida 2018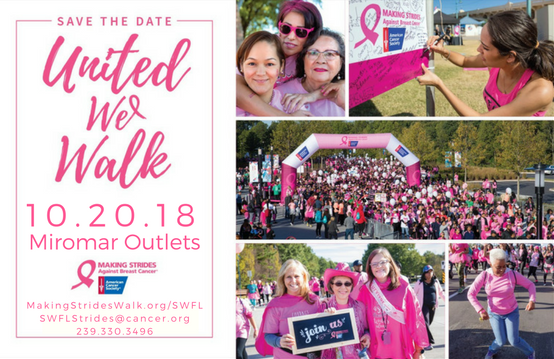 In this month of October, Breast Cancer Awareness Month, we here at DREAMPORT are adamant about spreading the word about breast cancer awareness and prevention and walking to fundraise, celebrate and walk for those who no longer can.
DID YOU KNOW?
In 2018, more than 266,000 women are expected to be newly diagnosed with breast cancer

Breast cancer is the most frequently diagnosed cancer in women (excluding skin cancer)
and second only to lung cancer as a cause of cancer death in women
Breast cancer death rates have declined by 39% since 1989, contributing to 322,600 lives saved
The five-year relative survival rate for breast cancer that has not spread to the lymph nodes or other locations is 99%
WHAT DOES BREAST CANCER LOOK LIKE?
The most common symptom of breast cancer is a new lump or mass. A painless, hard mass that has irregular edges is more likely to be cancer, but breast cancers can be tender, soft, or rounded. They can even be painful. For this reason, it is important to have any new breast mass, lump, or breast change checked by a healthcare professional experienced in diagnosing breast diseases.
Other possible symptoms of breast cancer include:
Swelling of all or part of a breast (even if no distinct lump is felt)

Skin irritation or dimpling (sometimes looking like an orange peel)

Breast or nipple pain

Nipple retraction (turning inward)

Redness, scaliness, or thickening of the nipple or breast skin

Nipple discharge (other than breast milk)
Sometimes a breast cancer can spread to lymph nodes under the arm or around the collar bone and cause a lump or swelling there, even before the original tumor in the breast is large enough to be felt. Swollen lymph nodes should also be checked by a healthcare provider.
Although any of these symptoms can be caused by things other than breast cancer, if you have them, they should be reported to a health care professional so that the cause can be found.
Because mammograms do not find every breast cancer, it is important for you to be aware of changes in your breasts and to know the signs and symptoms of breast cancer.
WALK TO FUNDRAISE, WALK TO CELEBRATE,
WALK FOR THOSE WHO NO LONGER CAN
We come together, under the American Cancer Society's largest network of breast cancer events in the nation, to lead the fight against breast cancer.
At each MAKING STRIDES AGAINST BREAST CANCER WALK, we celebrate survivors, and we raise awareness and funds to fight breast cancer. The walks are non-competitive, 3-to-5 miles long, and have no minimum fundraising amount — and it's FREE to register!
Fundraising can be done through the ACS website or via the FUNdraising app, or you can personally collect donations to turn in at the event. Last year, more than 1.2 million Making Strides walkers helped raise more than $60 million to fight breast cancer.
FIND A LOCAL MAKING STRIDES EVENT
To find your local walk, visit Making Strides Against Cancer Walk LOCATE page.
DREAMPORT and our business, Naples Bay Blinds + Shutters, are proud sponsors of our Southwest Florida event.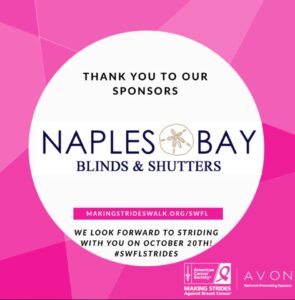 Thanks to fundraising and participation in the Making Strides walk, you are helping the American Cancer Society (ACS) save lives from breast cancer.
Investing in breakthrough breast cancer research to better understand, prevent, find, and treat the disease Free rides to chemo. Free places to stay near hospitals. And a live 24/7 cancer helpline for answers and support We help people reduce their breast cancer risk or find it early when it may be easier to treat For more information, call ACS 1.800.227.2345 or visit here.
VOLUNTEER
Our Making Strides Against Breast Cancer Walks depend on volunteers to be successful. Share your time so that no one has to face a breast cancer diagnosis alone. As a volunteer, you may help with check-in, water stations, information, and much more. To learn about volunteer opportunities in your area, sign up now or call 1-800-227-2345. If you want to help us save lives from breast cancer, volunteer.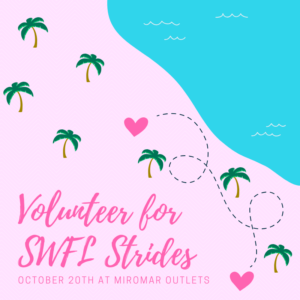 I am proud to be the Team Development Chair for the Southwest Florida walk and be a member of the ACS State of Florida's Making Strides Advisory Team. Not only do I feel I am directly doing work for my local community, I am meeting wonderful friends, colleagues and survivors.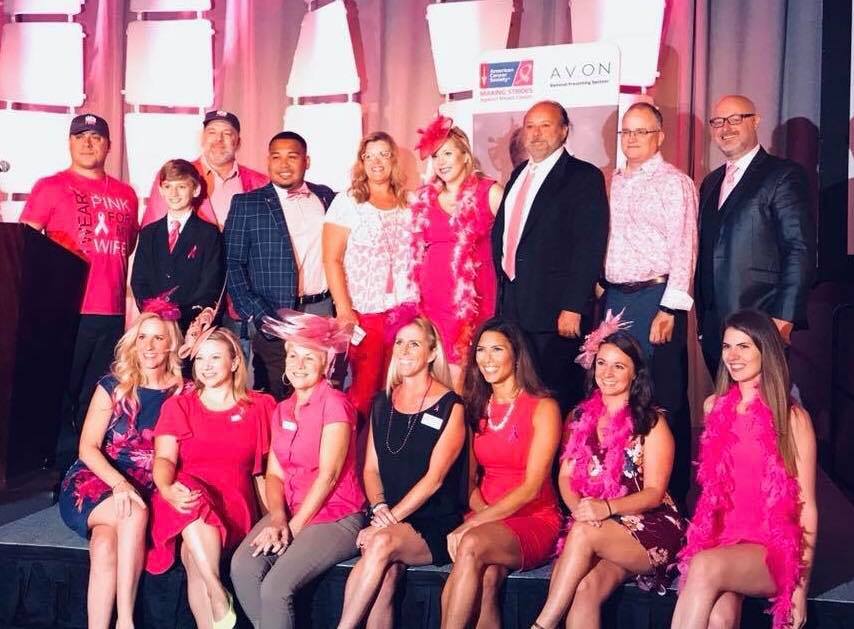 SURVIVORS + CAREGIVERS
Survivors are the heart of Making Strides Against Breast Cancer. And thanks to our partner, Zeta Tau Alpha, the survivor experience at our events is more exciting than ever. From recognizing and honoring survivors to coordinating special activities, the love of ZTA and our Making Strides staff shines through, creating an amazing day for everyone.
All survivors are welcome to join in the activities, even if they don't want to join a team! There is a special area for survivors featuring food, vendors and Survivor swag bags filled with goodies from over 20 local businesses.

SIGN UP TODAY!
SOUTHWEST FLORIDA's Making Strides Against Breast Cancer Walk
Saturday, October 20, 2018 | Registration begins at 7:30 AM | Walk begins at 9:00 AM
Miromar Outlets | 10801 Corkscrew Road, Estero, Florida 33928
[email protected] | (239) 261-0863
To find your local walk, visit Making Strides Against Cancer Walk LOCATE page.
*****
All information and statistics from Making Strides Against Breast Cancer | American Cancer Society