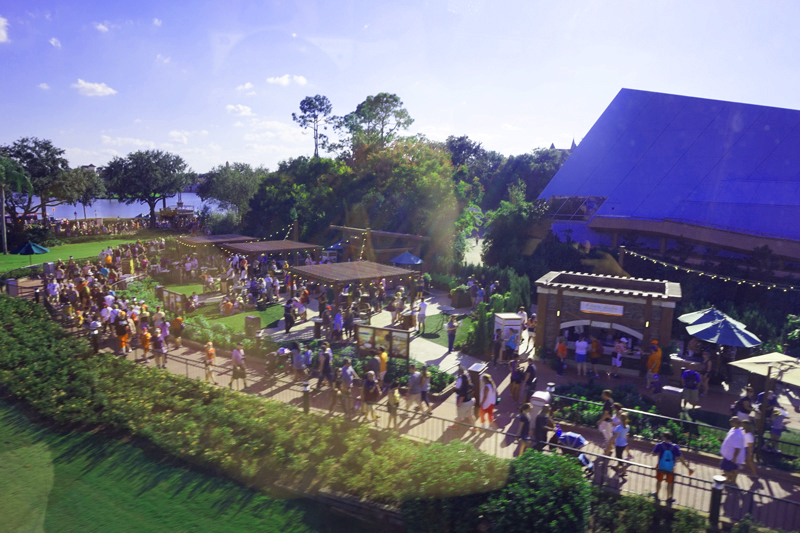 One of the top un-official Disney "Must Do's" at EPCOT in Walt Disney World, Orlando Florida is drinking, I mean "tasting," Around the World.
Around the World entails, you guessed it, having one drink at each of the countries in the World Showcase—11 in all, 12 if you count the Refreshment Outpost in What-Was-Supposed-to-Be Africa.
What used to be what we in our 20s deemed, an insider "thing," is now almost promoted by Disney, at what Joe terms as the world's biggest bar—EPCOT's Food + Wine Festival.
Our once post-college, intramural sport, with the help of endless upon endless Disney blogs and discussion boards, is now a pretty common "thing." Every trip to EPCOT, Joe and I spot groups of same t-shirted members with custom-made, clever wearable country checklists.
With Age, Comes Wisdom
From our many journeys around the world over the past 25 years, we've learned a thing or two from celebrating our many life's milestones. Just ask Joe about ruining his designer loafers back in 1999 at Disney's New Year's Eve Millennium Celebration at Pleasure Island.
We have learned in order to make an Around the World event truly a family, multigenerational EVENT, two things are needed: 1) Rules of Play and 2) Team Gear.
Rules of Play
Whether your group for the day is purely drinkers, non-drinkers or a mix, if members follow some basic rules, the day is more enjoyable for all because no one team member is puking into a magical trash bin due to over-drinking or over-eating.
Not everybody drinks, can drink or should drink.
You don't have to drink.

In our family, most times, we have multigenerations in tow. Team members can eat one snack at every country, write down a one or two word description of the country, write down a drink/snack from another teammate, or record a funny saying. Trust us. If you have team members drinking, especially relatives, funny events/sayings are GUARANTEED to happen.

Make it a true team event.

If your team is big enough, and it's a drinking day, rotate who drinks; that way, each member only has one or two drinks by the end. Another team strategy includes making your trip around the world a tasting one. Get one drink at each country and pour it into multiple glasses.

Don't, I repeat DON'T start off at Mexico with a shot of Tequila. It's a marathon, not a sprint.
Wear a checklist. Wearing team gear of any kind ALWAYS gets members pumped. Whether donning custom t-shirts or wearing group lanyards (perfect for the two weeks of actual winter here in Florida), team gear creates a party! Check out some ideas below; we included a downloadable lanyard printable!
Team Gear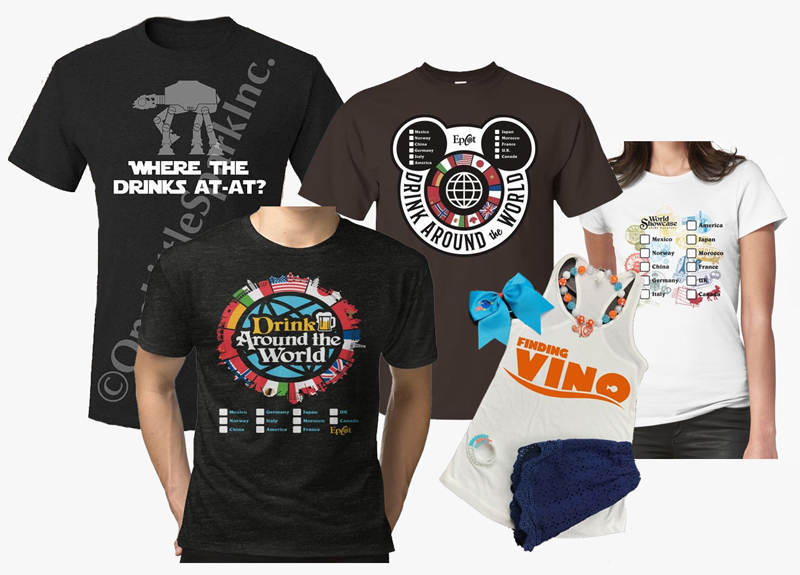 Custom T-Shirts
Team t-shirts can be made primarly in two ways: 1) Create your own design and upload to an online print site or bring your custom design to a local print shop or 2) Buy from an online store that will customize their templates. Custom tees usually run anywhere between $15–$25 per shirt.
For our godson's Michael's 21st Birthday Tees below, I created the design and used a local business for printing, T-Shirt Express here in Naples, Florida. They print all our shirts for our business, Naples Bay Blinds + Shutters. If you live out of town, no worries—they ship!
I designed the back to physically tick off each country with a Sharpie. I also created the birthday boy's shirt a bit different the rest—as Team Captain.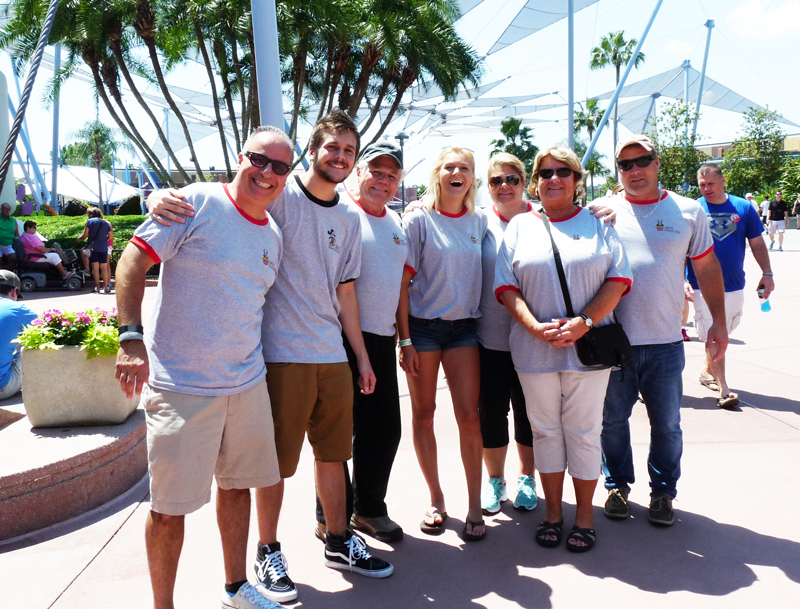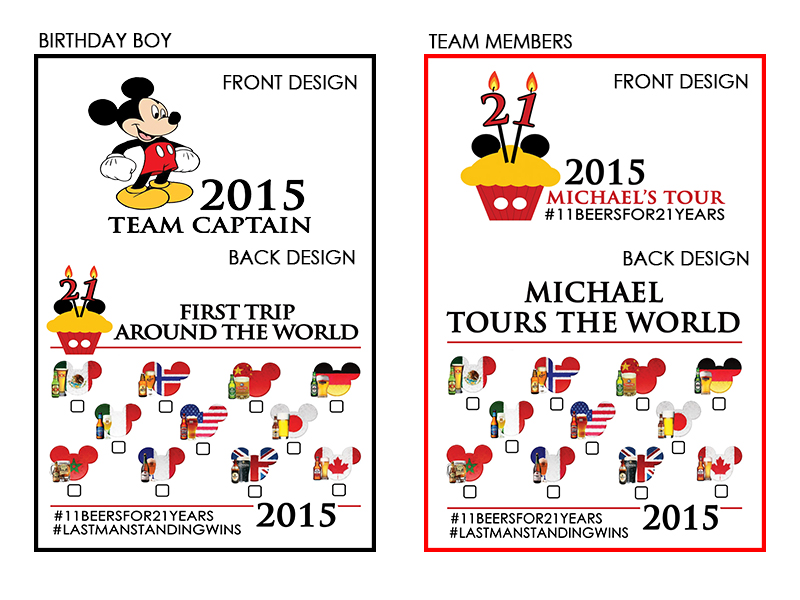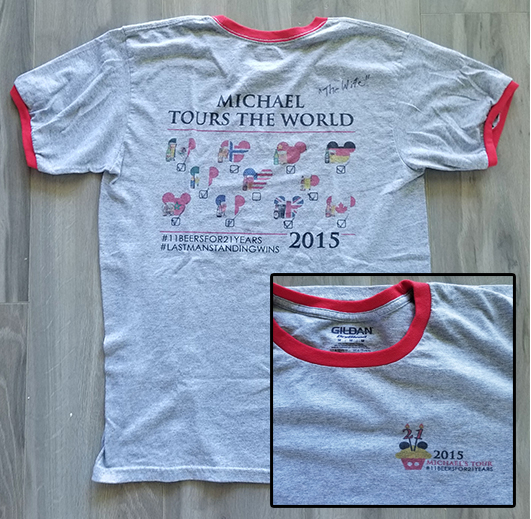 Lanyards
Another option for team "passports" are laminated checklists on lanyards.
Lanyards are the perfect solution for:
Those family members that don't want to wear matching shirts,
Florida's two weeks of winter where temperatures actually do dip down close to freezing, and
Family budgets—they only cost a few dollars each to print and laminate.
Lanyards can be made just the same as team t-shirts, in a few ways as well: 1) Create your own design, print and laminate at Staples; 2) Buy from an online store that will customize their templates. Etsy.com is chock-full of options; or 3) if you own a laminator, like I do, you can create, print and laminate all from the ease of your desk. The actual lanyards can be bought online or in-store at Amazon, Staples/Office Depot or retailer of choice. Cost per lanyard usually runs between $5–$8.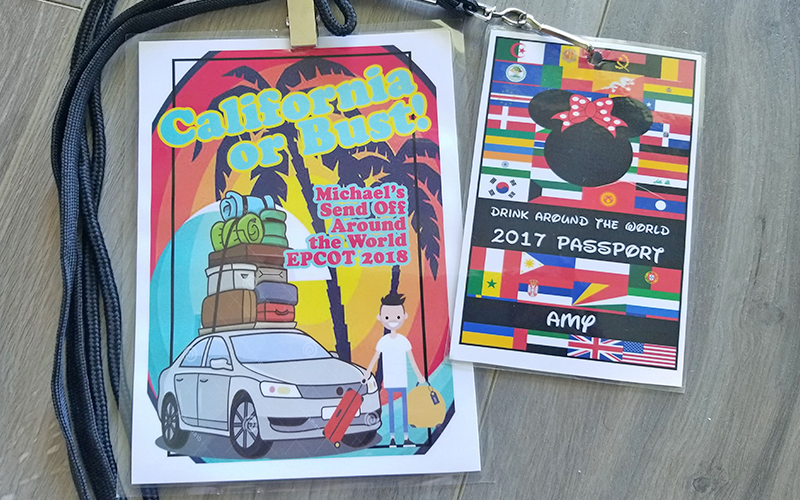 Download Our Printable
Click on the graphic to download!