Film, IMAGINATION
It's Not You, It's Me – The movie. Not my relationship nightmares.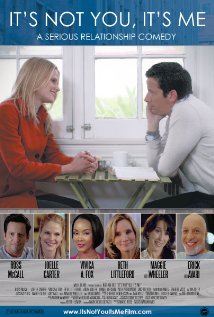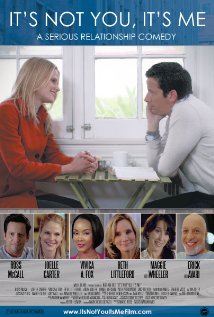 No, this isn't another one of my dating stories, believe it or not, it's about a "brutally humorous" independent film, its' writer/director, and his pick-up truck.
I was asked by filmmaker Nathan Ives to watch, review and socially spread the word about his latest star-packed film, It's Not You, It's Me (2013).  I was honored to be asked to participate in not only this movie viewing, but this movie movement (more of that to follow).
This super-edgy comedy revolves around commitment-phobe Dave (played by Band of Brothers' star, Ross McCall) battling his inner voices (literally personified by actors such as Erick Avari) over his recent break up with long-time girlfriend, Carrie (played by High Fidelity's Joelle Carter), who is battling her own inner insecurities (also literally personified by actors such as super star Vivica A. Fox and The Daily Show with John Stewart's Beth Littleford).
Ives' internal and external dialogues are raw exchanges leaving the viewer laughing in their hilarity, while sobbing simultaneously in their reality — maybe this is about my relationship nightmares.  Ives brilliantly captures the ever-looming female psyche's fear of actually becoming the never-married, crazy cat lady and the seemingly will-never-move-past-the-frat-keg-party-emotionally male pysche.
Ives is not only making independent film waves by writing, directing, and producing his own film, It's Not You, It's Me is gaining recognition because of its' unique distribution approach – a pick-up truck.
Gaining entry into your local Cineplex down the street is more complicated – and more costly – than any movie go-er can imagine.  In addition to basically signing away "all rights," many times small, independent filmmakers are left to pay a $50,000 marketing fee, upwards of 15% commissions, and signing a minimum 15-year contract – just for the maybe, cross your fingers, possibility to show in theaters next to the big, mega-producing, Hollywood conglomerates such as 20th Century Fox, Universal and MGM Studios.
Ives' solution? To follow the business model pioneered in the music industry – bypass the label and distribute yourself. With today's technology, patterning the path of success music stars and his pick-up truck, Ives hit the road in a high-tech, grassroots cross-country campaign to promote his movie one town and one click at a time.
Ives's goal is not only to promote and show his film, but to create a sustainable business model for other small indie hopefuls to follow, implement and share, all with the aid of the world wide web.  Just as in the music industry, current success – both monetary and in popularity – is no longer centered around distribution units; whether it is music or film, content can be distributed by mere "access" alone.  Ives, just like artists Radiohead, The Hold Steady, Beyonce, and many more others, believes in mobile, digital content that can be easily viewed and shared through such channels as iTunes, Amazon.com, Hulu,  individual websites and social media by the simple step of viewers paying per view or per download.
In the spirit of independent film and the new, film eDistribution model, please visit, pay-per-view/download and, of course, share Nathan Ives' humor, film, and story.
***
Like the INYITM Facebook page, here.
Read more about INYITM on IMDb, here.
Watch and buy on iTunes and Amazon.com.
Read more about Mule Films, here.
Read more about Nathan Ives and his adventures on the road in this pick-up truck, here.