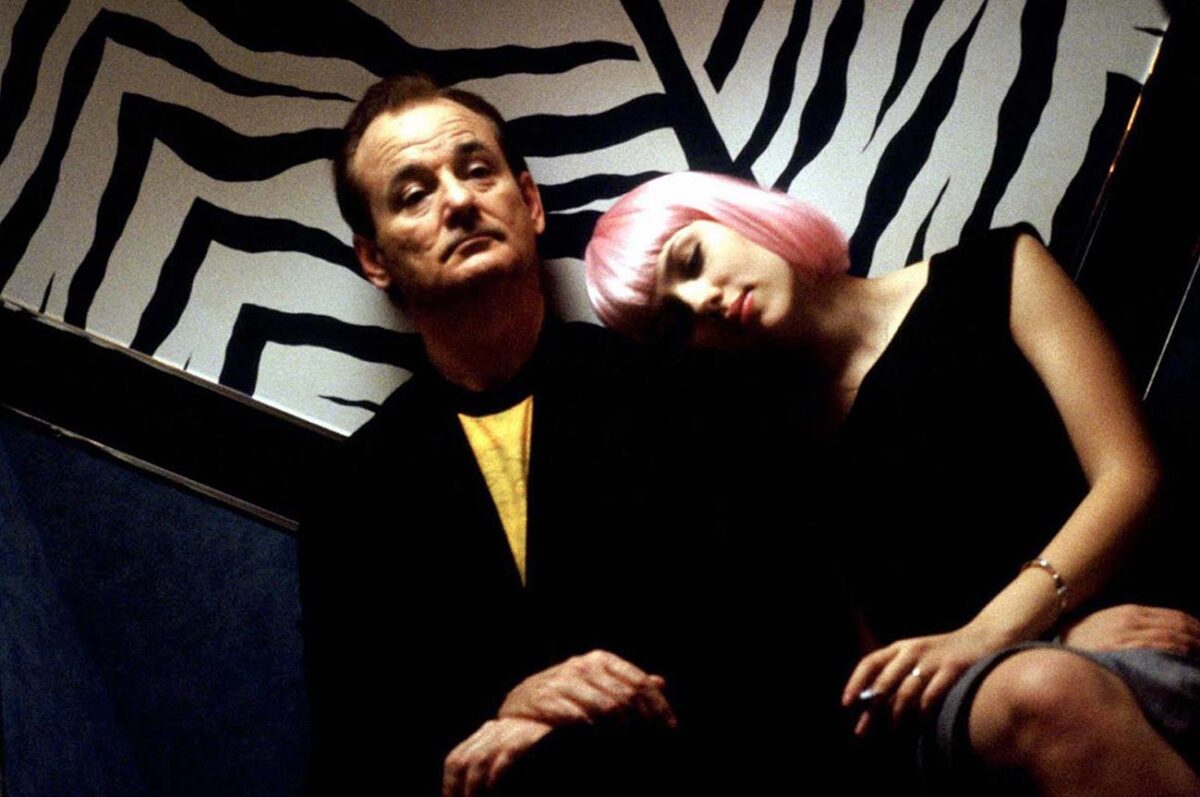 Art imitates life and life imitates art and art imitates life and life imitates art…  
These movies will MAKE. YOU. THINK. and, of course, LAUGH. They may even forever change the way you view the world. They did for me. Maybe they will for you, too. Good. Then they did their job.
Lost in Translation | 2003
Written and directed by Sofia Coppola. Bill Murray stars as Bob Harris, a fading American movie star who is having a midlife crisis when he travels to Tokyo to promote Suntory whisky. There, he befriends another estranged American named Charlotte, a young woman and recent college graduate played by Scarlett Johansson.
Valley Girl | 1983
A punk named Randy (Nicolas Cage) from the wrong side of the Hollywood Hills falls for Julie (Deborah Foreman), a mall-dwelling Valley Girl, and they begin a Romeo-and-Juliet-like romance … that is, until peer pressure gets to Julie and she cuts off their relationship. But love-struck Randy refuses to give up on Julie. Will he convince her that they're meant to be together?
The Art of the Steal | 2009
A gripping tale of intrigue and mystery in the art world, this film traces the history of the Barnes collection of Post-Impressionist paintings, which was worth billions and became the subject of a power struggle after the 1951 death of the owner. Dr. Albert Barnes collected 181 Renoirs, 69 Cézannes, 59 Matisses, 46 Picassos and many other valuable paintings. But the political wrangling over the collection eventually led to its division.
Bananas | 1971
Neurotic nebbish Fielding Mellish (Woody Allen) follows his dream girl (Louise Lasser) to the fictitious Latin American nation of San Marcos, where he unintentionally becomes a freedom fighter for a revolutionary leader. But shortly after taking the reins of power, the new strongman goes—you guessed it—bananas, leaving Fielding in command to bargain with the United States. Watch for Sylvester Stallone in a microscopic role.
What Would Jesus Buy? | 2007
Taking on rampant American consumerism with a focus on Christmas shopping, the Rev. Billy (Bill Talen) and the Church of Stop Shopping go on a cross-country journey to save citizens from the Shopocalypse in this hilarious documentary produced by Morgan Spurlock. Reminding shoppers of the true meaning of Christmas, Reverend Billy exorcises demons at Wal-Mart's headquarters and preaches his message at the Mall of America and Disneyland.
Confessions of a Superhero | 2007
On Hollywood Boulevard, wannabe movie stars dress up as superheroes and pose for photos with tourists. Matt Ogens's documentary follows four of these quirky dreamers, who are just killing time until they're discovered. You'll get to know a Superman who takes his role to heart, an Incredible Hulk who sold his prized video game system for a ticket to Tinseltown, a Midwestern beauty queen-turned-Wonder Woman and a Batman in need of a little therapy.
Before Sunrise | 1995
Before Sunrise is a 1995 American romantic drama film directed by Richard Linklater and co-written by Linklater and Kim Krizan. The first installment in the Before trilogy, it follows Jesse (Ethan Hawke) and Céline (Julie Delpy) as they meet on a Eurail train and disembark in Vienna to spend the night together.
Who the #$&% Is Jackson Pollock? | 2006
When brash trailer park resident Teri Horton bought a secondhand painting for five bucks, little did she know it could be a genuine Jackson Pollock worth millions. This film documents Horton's volatile 15-year journey into the heart of the art world's elitist establishment to have the painting authenticated. The clash between stuffy art dealers and the cussin', beer-drinkin' Horton is funny, eye-opening and utterly unforgettable.
My Kid Could Paint That | 2007
Amir Bar-Lev directs this thought-provoking documentary about a precocious 4-year-old artist whose abstract works have drawn critical comparisons with modernist greats such as Kandinsky, Picasso and Pollack. Her talents have already profited her and her parents hundreds of thousands of dollars. But is she truly an artistic visionary trapped in the body of a preschooler, or is her gift with a paintbrush mere illusion?
Pink Panther Strikes Again | 1976
The plot picks up three years after The Return of the Pink Panther, with former Chief Inspector Charles Dreyfus (Herbert Lom) about to be released from a psychiatric hospital after having finally been driven mad by new Chief Inspector Jacques Clouseau's (Peter Sellers) ineptitude in the previous films. A typically disastrous visit from Clouseau on the day of his release prompts a swift relapse which cancels Dreyfus's planned discharge, but he soon escapes anyway, and organizes an elaborate criminal plot to threaten the countries of the world with annihilation by a massive laser weapon if they do not assassinate Clouseau for him.
Curse of the Golden Flower | 2006
Curse of the Golden Flower is a Chinese epic wuxia drama film written and directed by Zhang Yimou. The Mandarin Chinese title of the movie is taken from the last line of the Qi Dynasty poem written by the rebel leader Emperor Huang Chao who was also the Emperor of the Qi Dynasty that was at war against the Later Tang Dynasty.
White Christmas | 1954
Having left the Army following W.W.II, Bob Wallace and Phil Davis team up to become a top song-and-dance act. Davis plays matchmaker and introduces Wallace to a pair of beautiful sisters (Betty and Judy) who also have a song-and-dance act. When Betty and Judy travel to a Vermont lodge to perform a Christmas show, Wallace and Davis follow, only to find their former commander, General Waverly, as the lodge owner. A series of romantic mix-ups ensue as the performers try to help the General.

Breakin' | 1984
A struggling young jazz dancer (Lucinda Dickey) meets up with two break-dancers (Adolfo 'Shabba-Doo' Quinones) and (Michael 'Boogaloo Shrimp' Chambers). Together they become the sensation of the street crowds. Features ICE-T in his film debut as a club MC.
The Muppet Movie | 1979
Produced between the first and second half of The Muppet Show's third season, the film tells the origin story of the Muppets, as Kermit the Frog embarks on a cross-country trip to Hollywood, encountering several of the Muppets—who all share the same ambition of finding success in professional show business—along the way while being pursued by Doc Hopper, an evil restaurateur with intentions of employing Kermit as a spokesperson for his frog legs business.